We all know how difficult it gets when it comes to organizing your home.
We can easily get stuck in a situation of how to start or what sort of things we can do to make our rooms organized.
Well, today we will be talking about a product which can make organizing things really simple and, at the same time, look chic too.
In this article, we will cover 5 tips or ways to use Storage bins/Stackable baskets to store any kind of stuff whether in the kitchen, bathroom, or closet.
Here are 5 ways to use Storage bins: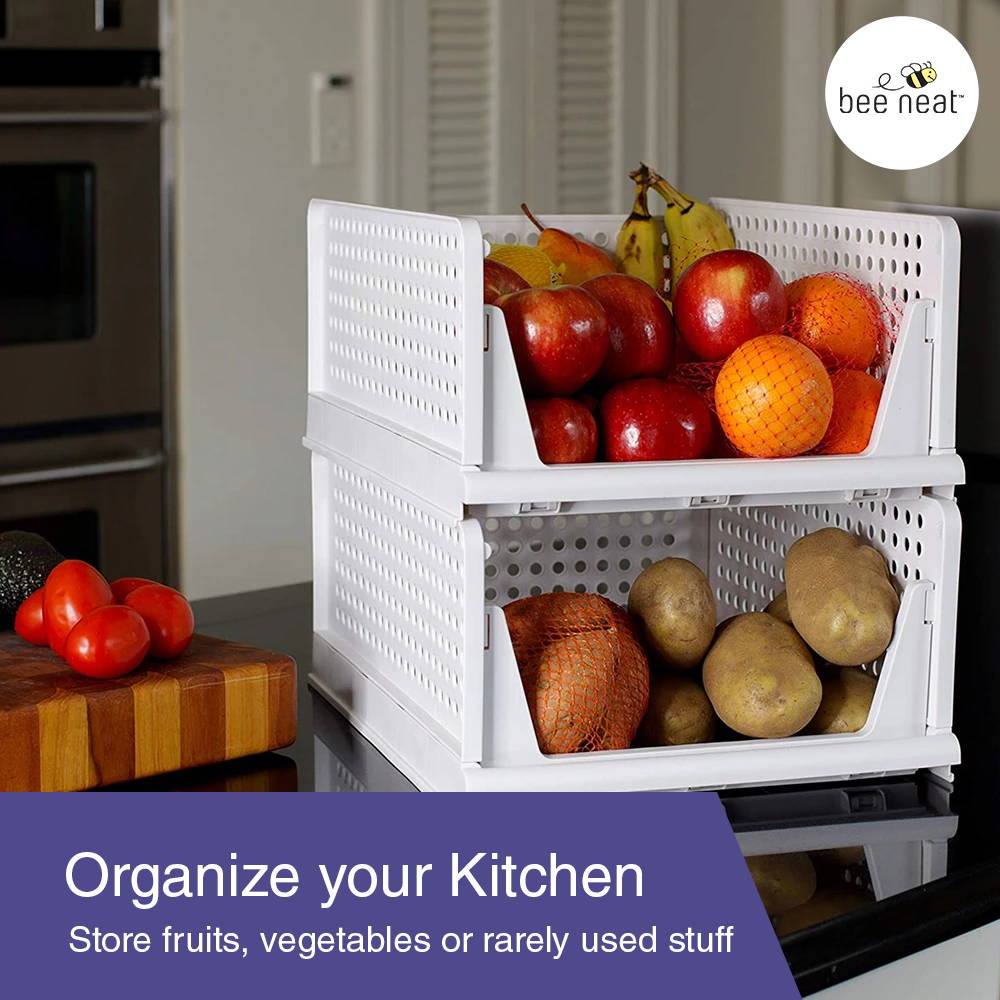 Organize Your Pantry:
Using Storage bins or stackable baskets to organize your kitchen can be a great idea as you can use them in various ways. You can use these bins to store fruits, vegetables, or to store rarely used stuff on the top shelves of the cupboards. You can use these stackable baskets in under sink storage cabinets and keep many items handy and organized. Use these baskets to add a tidy look to your kitchen. No more wasting time in finding the stuff, only fun time while cooking.
Keep Your Pet Gear Handy:
Last but not least tip to use the storage basket for organizing your home is to store your pet gear in a single box. Keep all the pet products such treats, leashes, collars, poop bags and more in one place rather than storing it here and there making it difficult for you to find the things when needed.
Use these tips to easily organize any room of your house and get rid of that messy and cluttered stuff. Feel that sense of pride and effortlessly organize any corner or room of your house with these storage bins.
Use in Your Closet:
Tired of looking at the piles of clothes in your closet whenever you open the door? Then we have a tip for you to manage all the stuff in your closet and make it look decluttered. You can use storage bins in multiple ways in your wardrobe. Use them to store your things like undergarments or to store unused clothes. You can even use these baskets to store seasonal stuff and keep them separate from your often used items. The best way to use the bins is to label them to make stuff easily accessible.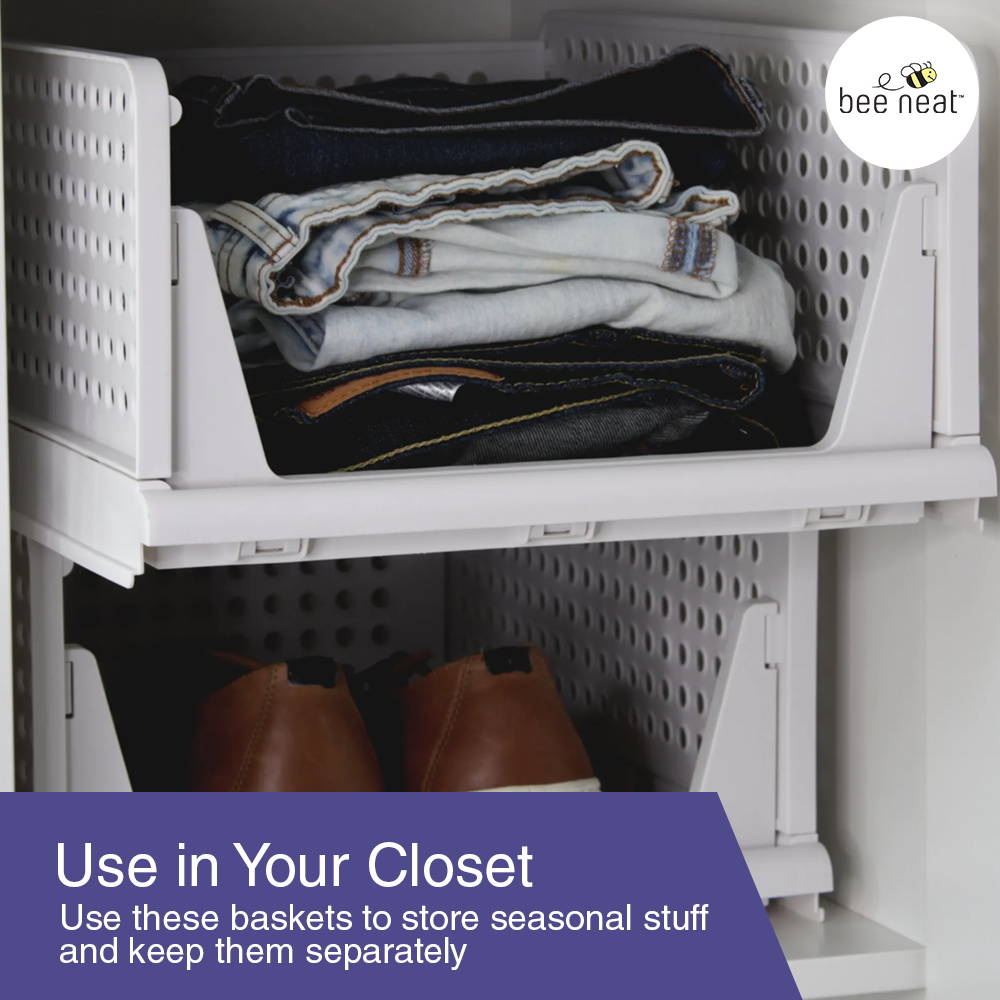 Corner Storage in any room:
Use often wasted corner space or a room or walk-in closet for more functionality. Use the stackable basket near your bed to hold blankets or any other kind of nighttime necessities. You can also use these baskets in the living area to store your books, magazines, or games. Use your creativity and make your rooms look more organized.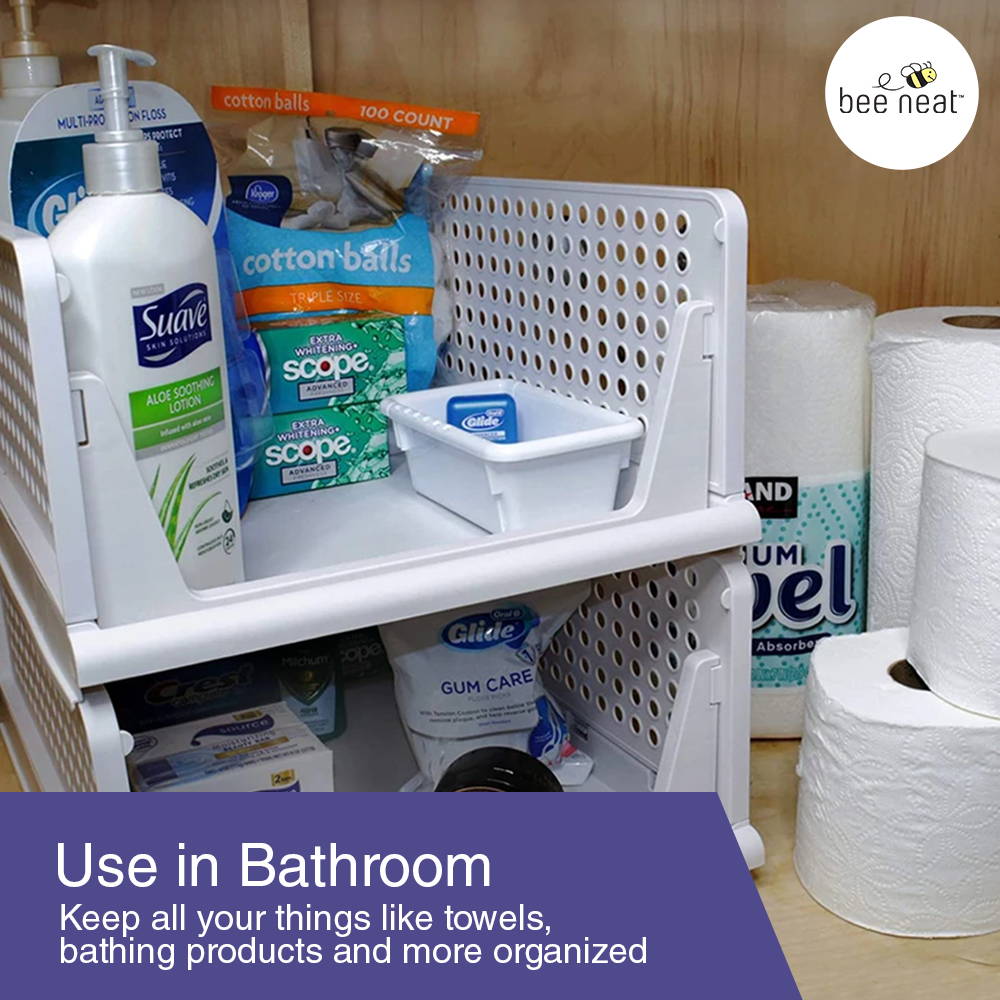 Can be Used in Bathroom:
Another place in your home where you can use these storage bins in a good way is your bathroom or laundry area. Keep all your things like towels, soaps, hygiene products, and more organized in these stackable bins and get rid of that messy look of your bathroom. Moreover, these storage bins are available in a wide range of materials ranging from plastic to acrylic so no need to worry about rust or cleanup. You can use both of these baskets in the bathroom and store your necessary things.